writing workshops
I've run writing workshops for a range of groups, from young people and students through to people with aphasia, and practising writers. These have been introductory sessions, workshops aimed at producing material for a performance, and sometimes on specific themes such as the Icelandic sagas.
One of the things I enjoy exploring in workshops is ways of working collaboratively, whether through group poems, improvisation, or setting exercises that allow participants' individual responses to be drawn together into a collective work.
If you'd like to talk with me about running workshops or coordinating a project for your organisation, you can get in touch with me via my contact page. If you're interested in poetry improvisation workshops, I have a sample workshop proposal I can provide to give you an idea of how it works.
Here is a write-up by Becci Fearnley, one of the participants in Word's a Stage, an Apples and Snakes project I facilitated February–April 2015: All poetry is improv.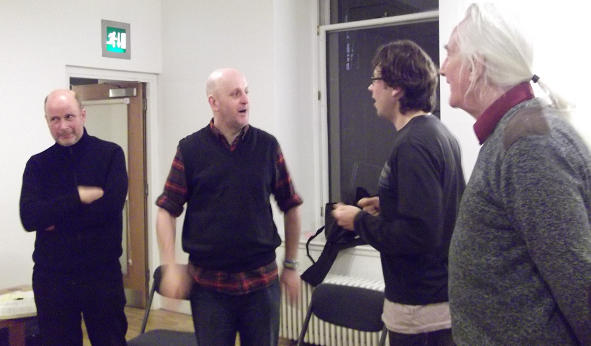 past workshops
Quick Shifts: Poetry-Dance Collaboration, February 2016
I was invited to collaborate with Quick Shifts, the East Midlands dance improvisation collective, for a day-long workshop. We explored the role that speech plays in their performances, and devised a scenario using text on scattered cards which formed the basis for their show on 3 March.
WAC Arts: Digital Poetry Jam, September 2015
I facilitated two evening workshops for WAC Interactive, a group of young people with a range of learning difficulties exploring digital arts at Camden's WAC Arts. We used Keezy, an audio sampler app on the iPad, to open up fun ways of devising, sampling, and playing back poetry without the pressure of the blank page or needing to perform vocally. You can listen to the results on SoundCloud. More info on zqblog.
Imagine: Sutton Stories, July 2015
In July 2015 I ran a series of three workshops (x2) for residents at two care homes in Wallington, Sutton (London). We explored memories and sense of place using photographs, maps, and prompts. Workshops were mostly run on a group basis, and poems assembled out of the participants' own words, with individual writing supported where possible. Participants were filmed reading the resulting poems and the footage used for further workshops with younger adults and children, and a final event at Sutton Central Library. I was awarded a Sutton Cultural Award for my part in the project. Some of the poems from the project are available on zqblog
Poetry Improvisation Workshop, 7 June 2015
A day workshop at Nottingham Writers' Studio. We explored poetry word association, freestyle improvisation, working with music, and ended with a more structured approach using roles. 'One of the collaborative pieces felt like being in a poem as it was being made', wrote one participant afterwards.
Word's a Stage: Grey Parrot Singing, February to April 2015
A series of five day workshops over a two-month period working with a group of four emerging artists using improvisation techniques to produce Grey Parrot Singing, a 30-minute spoken word performance for Apples and Snakes' Word's a Stage series. Much of the performance was improvised live on the night, and showcased a variety of ways of working with poetry improvisation, including a numbers improv, free improv, pair work, and roles. 'It's changed my relationship to speech and the things people say' (participant); 'It was really exciting to see a different approach to poetic collaboration' (audience member).
Poetry Improvisation Workshop, 9 December 2014
An evening taster workshop for the Scottish Writers' Centre in Glasgow's Centre for Contemporary Arts. We started out with some free group improvisation, then moved onto working with endangered languages. See the write-up on the SWC website. 'A great and bravely innovative event', in the words of Douglas Thompson (SWC Events Coordinator).
Poetry Improvisation Workshop, 22 April 2014
An evening workshop introducing poetry improvisation to the Apples and Snakes Gas Board writing development group. Participants had a go at speaking in and translating from endangered languages, and produced a human-generated Apostrophe poem.
Improvisation for Poets, 28 February 2014
An intensive one-day workshop on group poetry improvisation for Apples and Snakes in London, part of their Power Plant series. We explored structured and freeform approaches to improvisation, looking at how to tap our spontaneity, respond creatively to others, combine and differentiate our voices, and develop a piece. The workshop included improvisations based on found text, jumbled up 'puzzle' poems, and SnapChat—'This Message Will Self-Destruct'.
Aphasia Nottingham, October 2011–February 2012
I ran a series of four poetry workshops for Aphasia Nottingham's Fishing for Words series, with up to 18 participants in each session. Because the physical act of writing was difficult for some members of the group, in order to include everyone present most of the poems were written as a group. I also produced a 16-page pamphlet containing poetry and artwork produced during the Fishing for Words sessions.
Write Your Own Saga, 24 October 2009
A one-day workshop for Off the Shelf Festival in Sheffield using the Icelandic sagas to help explore ways of writing about our own lives and family histories, whether as fiction or as fact.
Sheffield Young Writers, 2008
A series of seven workshops for young people (ages 13–18). We covered a range of topics and exercises, from performing your work and writing collaborative poetry to storyboarding film-poems, sound poetry, and viral text poetry.
Life 2.0 workshops, summer 2008
A series of three workshops for producing 'Lost Voices', a collective poetry performance about five disembodied voices and their quest for avatardom, and one poetry improvisation workshop which resulted in 'Everything Changes', a multi-channel poetry soundscape.
Demolition workshops, summer 2005
A series of three workshops based around the theme of 'demolition and the urban environment' aimed at generating content, for Demolition, a music and poetry performance collage.
Verbiage workshops, summer 2004
A series of three workshops based around the theme of 'gardens' aimed at generating content, for Verbiage, a music and poetry performance collage.
Introductions to Creative Writing, University of Sheffield Students Union, 2005
Two introductory sessions on creative writing for students.
what people say
'one of the collaborative pieces felt like being in a poem as it was being made. V powerful!' [NWS improv workshop June 2015 participant]
'It changed my relationship with what I see poetry as.' [Word's a Stage participant]
'It was really exciting to see a different approach to poetic collaboration.' [Word's a Stage audience member]
'A great and bravely innovative event' [Scottish Writers' Centre Events Coordinator]
I was very impressed by your approach and your empathy with the group. [Aphasia Nottingham project coordinator]
A very good class and very useful wherever you are on your journey as a poet. [Improvisation for Poets, workshop participant]
It was educational and great fun! [Improvisation for Poets, workshop participant]
It reinforced the idea of the ordinary being extraordinary. [Improvisation for Poets, workshop participant]
[The Tutor] was participative and accommodating without being overbearing. His presence was not felt in an intimidating way so you feel more creative freedom while being guided. [Improvisation for Poets, workshop participant]
project management: writing in education and community settings
As well as working as a facilitator, I have extensive experience in writing development from my time as Development Director at Nottingham Writers' Studio. For example, I managed the Heroes Creative Writing Project (Clore Poetry and Literature Awards, working with young people from linguistically diverse backgrounds) and the Nottingham Lace Writing Competition (for children and young people in Nottinghamshire), organised Nottingham Writers' Days (intensive one-day workshops) and the NWS Workshop Series, and put together the first Nottingham Festival of Words (120 events over a two-week period in February 2013).